Someone Else's Book: Serpent's Sacrifice
From time to time here on this site I will share with you my thoughts on something new I've read. Today I kick off this feature with some words about Serpent's Sacrifice, the debut novel from Seattle-area author Trish Heinrich.
The first thing that I noticed in this book is the author's mastery of descriptive language. From the very first page, I was there with Alice.  I was immediately, viscerally drawn into the world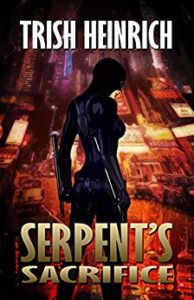 of the book from the very beginning. As you follow young Alice up her tree in the opening scene, you become aware of the condition of each of her senses. And as the story moves on, you get a complete picture of life in the dingy, post-WWII neighborhood that Alice and her friends call home.
What she's hearing, feeling, hoping for: all of this is deeply and eloquently conveyed, giving you both the perfect picture of Alice's world in the moment, and an emotional connection to young Alice and to the relationships she holds dear.
This connection follows you into Alice's young adulthood.
There is a skip in time early in the volume, and the information as to what has gone on in the intervening years is meted out with finesse and deliberation– the kind that can be missing from the work of a first-time author. The balance Heinrich strikes felt just right to me; I knew enough about Alice's life to understand her place in the world, but was never struck with anything that felt like unnecessary exposition.
The world of Alice's adulthood is just as richly presented as the world of her childhood. The place and circumstances in which she finds herself ring true to history and to the character's view of the world– both as it is and as it should be.
As I was reading, I found myself dithering over whether the story was predictable, or just well-foreshadowed. Upon reflection, I have decided it's definitely the latter. Everything I saw coming was something I wanted to happen, and I cheered when my suspicions turned out to be true. The fact that I was able to guess as to what this-or-that would turn out to be kept me turning pages to see if I was right. "Knowing" what was about to happen never made a moment stale or boring, and that's what makes the difference in my mind. If you like stories that make you happy and meet expectations, this one does it in spades.
I don't think it's a spoiler to tell you that Serpent's Sacrifice is a hero's origin story. There are supernaturally gifted heroes in Heinrich's fictional Jet City, as well as common citizens who do heroic things. Seeing Alice come into her own as one of these (and no, I'm not going to tell you which variety!) in a time when the very idea of woman-as-hero was considered preposterous was certainly a journey worth taking.
I was rooting for Alice every step of the way, and will continue to do so throughout the rest of this series.
TL;DR: Compelling story, beautiful language, worth reading.
---
The author provided a copy of this work free of charge for purposes of this review.
---