About
Amanda Cherry is a wife and mom, an actor, and an author loving life in the suburbs of Seattle, WA. She's an alumnus of the University of Nevada, Las Vegas whose biggest claim to fame is having once co-starred with a Gecko in an insurance commercial.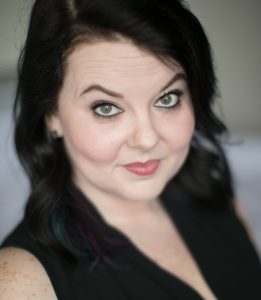 As a queer, disabled author of urban & contemporary fantasy, space opera, and role play games, Amanda is drawn to stories that center people whose experiences and points of view are too often erased. She loves magic, mayhem, clever villains, unlikely love stories, and marginalized folx coming into their own power.
Amanda's debut novel, Rites & Desires was released in 2018. Her short stories have appeared in Cobalt City Christmas: Christmas Harder and several editions of Mad Scientist Journal. She was on the writing team for the tabletop role play game Acute Paranoia and was a finalist in the 2018 NYC Midnight Short Story Challenge. She's been a story consultant to the SyFy Docu-series Looking for Leia in which she was also an on-camera participant.
Amanda is a giant nerd, and a fixture of sci-fi, fantasy, and comic book conventions across the country. Find her on panels about everything from fashion & fanfiction to impostor syndrome and chronic illness. If you're looking for someone to talk about Star Wars, Star Trek, gaming, or daring to be hyper-femme in geek spaces, she's your gal.
Amanda has contributed to geek culture sites Tosche Station, Eleven-ThirtyEight, and Star Trek.com and has been featured in Journey Planet.
She is a member of SAG-AFTRA, SFWA and Broad Universe.